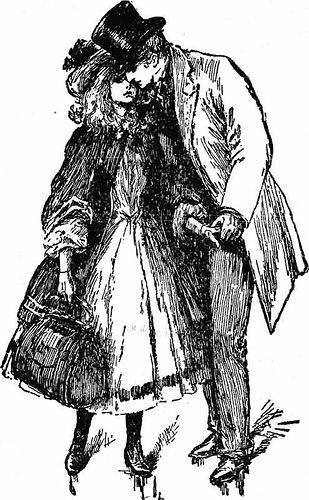 "Flirting and Its Dangers," circa 1920:
No Excuse. – In this country there is no excuse for the young man who seeks the society of the loose and the dissolute. There is at all times and everywhere open to him a society of persons of the opposite sex of his own age and of pure thoughts and lives, whose conversation will refine him and drive from his bosom ignoble and impure thoughts.
The Dangers. – The young man who may take pleasure in the fact that he is the hero of half a dozen or more engagements and love episodes, little realizes that such constant excitement often causes not only dangerously frequent and long-continued nocturnal emissions, but most painful affections of the testicles. Those who show too great familiarity with the other sex, who entertain lascivious thoughts, continually exciting the sexual desires, always suffer a weakening of power and sometimes the actual diseases of degeneration, chronic inflammation of the gland, spermatorrhoea, impotence, and the like. – Young man, beware; your punishment for trifling with the affections of others may cost you a life of affliction.
Remedy. – Do not violate the social laws. Do not trifle with the affections of your nature. Do not give others countless anguish, and also do not run the chances of injuring yourself and others for life. The society of refined and pure women is one of the strongest safeguards a young man can have, and he who seeks it will not only find satisfaction, but happiness. Simple friendship and kind affections for each other will ennoble and benefit.
The Time for Marriage. – When a young man's means permit him to marry, he should then look intelligently for her with whom he expects to pass the remainder of his life in perfect loyalty, and in sincerity and singleness of heart. Seek her to whom he is ready to swear to be ever true.
Breach of Confidence. – Nothing is more certain, says Dr. Naphey, to undermine domestic felicity, and sap the foundation of marital happiness, than marital infidelity. The risks of disease which a married man runs in impure intercourse are far more serious, because they not only involve himself, but his wife and his children. He should know that there is nothing which a woman will not forgive sooner than such a breach of confidence. He is exposed to the plots and is pretty certain sooner or later to fall into the snares of those atrocious parties who subsist on black-mail. And should he escape these complications, he still must lose self-respect, and carry about with him the burden of a guilty conscience and a broken vow.
Society Rules and Customs. – A young man can enjoy the society of ladies without being a "flirt." He can escort ladies to parties, public places of interest, social gatherings, etc., without showing special devotion to any one special young lady. When he finds the choice of his heart, then he will be justified to manifest it, and publicly proclaim it by paying her the compliment, exclusive attention. To keep a lady's company six months is a public announcement of an engagement.
From Searchlights on Health — The Science of Eugenics: A Guide to Purity and Physical Manhood; Advice to Maiden, Wife and Mother; Love, Courtship, and Marriage, by Prof. B.G. Jefferis, M.D., Ph.D., and J.L. Nicols, A.M.