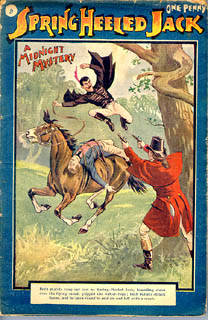 A villain worthy of DC Comics, Spring Heeled Jack leapt liberally around England between 1837 and 1904, attacking isolated victims who described him as a muscular devil in an oilskin.
If he was the devil, he wasn't a very ambitious criminal, generally just crashing carriages and groping women. But he could jump 9-foot walls, perhaps using spring-loaded footgear, judging from some ill-preserved prints.
An anonymous letter implied that a human prankster was terrorizing London on a bet, and incidental reports began to mount. In 1838 four witnesses saw him breathe fire and jump to the roof of a house, and in 1845 he threw a 13-year-old prostitute from a bridge, his first killing. On the night of Feb. 8, 1855, long trails of hooflike prints were seen in the snow throughout Devon, crossing roofs, walls, and haystacks. By 1873 thousands were gathering each night to hunt the ghost.
Nothing seemed to stop him, including bullets, and he even attacked a group of soldiers at Aldershot Barracks in 1877. He was last spotted in 1904 in Liverpool, leaping over a crowd of witnesses and disappearing behind some neighboring houses.
There's no good explanation. Some suspected the Marquess of Waterford, who was known to spring on travelers to amuse himself, but the attacks continued after his death. Others have suggested a stranded extraterrestrial, a visitor from another dimension, or a real demon. We'll never know.