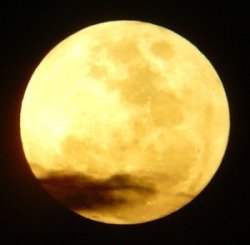 Jayson Blair may not have been reaching high enough. The New York Times reporter was disgraced for faking quotes and interviews, but that's kid stuff compared to the Great Moon Hoax of 1835, a series of articles (1, 2, 3, 4, 5, 6) in which the New York Sun announced that life had been discovered on the moon.
"Reprinted" from the defunct Edinburgh Journal of Science, the six articles told of "an immense telescope of an entirely new principle" with which astronomer John Herschel supposedly discovered lunar bison, goats, pelicans, trees, beaches, and even bat-men who built temples of sapphire.
That last detail sent the Sun's circulation to 19,360, the world's highest … and it stayed high even after Sun reporter Richard Adams Locke admitted that he'd invented the whole thing.
Strangely, most accounts report that the Sun's readers were amused at the joke. The real outrage came from rival newspapers that had reprinted the articles, claiming to be getting them from the original source. Now that's embarrassing.