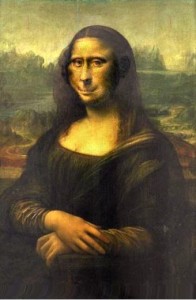 Upload your own photo into this face transformer and you can change your age, race, or sex, or see yourself as a Modigliani, Botticelli, or El Greco, or even as manga. (This Mona Lisa is half chimpanzee.)
The software was developed by Bernard Tiddeman and David Perrett of Scotland's University of St. Andrews. Earlier this month they estimated how Elvis Presley might have looked on his 70th birthday, and they've also rendered John Lennon at 64 and morphing videos of James Dean and Marilyn Monroe.
Tiddeman says, "This technology was designed to help psychologists understand how our brains interpret faces, an immensely important social function, helping us to recognize friends, choose a mate, or read people's emotions." They're also using it to plan facial surgery and to help find wanted and missing persons.
Why do we recognize each other by the fronts of our heads? Because hair and clothing change too much, and because people's hands are too similar. Studies involving prosopagnosia, the inability to recognize faces, imply that there may be a specific face perception system in the brain.
Even stranger is Capgras delusion, in which you recognize the faces but lose the emotional response to them, which makes it seem as though your friends and family are being replaced by impostors. Creepy.