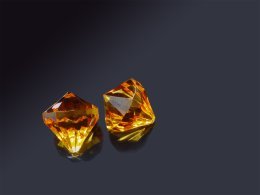 The Greeks believed diamonds were tears of the gods. The Romans thought they were splinters of fallen stars. Today, "Diamonds are a con, pure and simple."
So says Cecil Adams, and as usual, he's right. Over the last 60 years South Africa's De Beers diamond cartel has manipulated emotions, markets and social conventions to make a fortune out of thin air. And you may well be one of their victims.
De Beers didn't invent the diamond engagement ring — that goes back to 1477 — but it was their 1938 marketing campaign that established it in the popular consciousness as the final symbol of true love.
The company's PR agency, N.W. Ayer, created a new form of advertising, with no brand name, just the idea of "the eternal emotional value surrounding the diamond." They planted romantic stories in movies and magazines; they paid fashion designers to promote the trend; they even got the English royal family to promote it.
Meanwhile, the slogan "A Diamond Is Forever" discouraged women from selling diamonds or from buying them secondhand from other women. With no secondary market, the cartel controlled the price, which explains why it varies widely, unlike gold's. De Beers focused on controlling supply, too, limiting production, cutting off competition and buying up surplus gems.
It worked. Worldwide diamond sales rose from $100,000 in 1932 to $2.1 billion in 1979, all on the strength of a manufactured emotional impulse. Japan even adopted them as a Western status symbol — today it's the second largest market for retail diamonds.
It's De Beers that tells you to spend two months' salary on an engagement ring, and it's probably De Beers who's selling it to you. "The value of diamonds rests on a number of assiduously cultivated myths," write David Pallister, Sarah Stewart and Ian Lepper in the book South Africa Inc. "One is that diamonds are special."