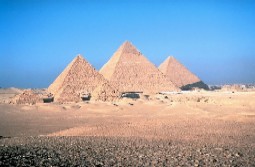 We need some new wonders. The old ones wore out some time ago, as you may have noticed. Of the seven wonders of the ancient world — the Pyramids of Giza, the Hanging Gardens of Babylon, the Statue of Zeus, the Temple of Artemis, the Mausoleum of Halicarnassus, the Colossus of Rhodes, and the Lighthouse of Alexandria — only the pyramids are left. The hanging gardens may never have existed.
Well, there are lots of wonderful things in the world. Can't we just choose a better list? That depends on who does the choosing. In 1994 the American Society of Civil Engineers took a shot at it and proposed these modern replacements:
Empire State Building, New York
Itaipu Dam, Brazil and Paraguay
CN Tower, Toronto, Canada
Panama Canal, Panama
Channel Tunnel, United Kingdom and France
Delta Works, North Sea protection works, Netherlands
Golden Gate Bridge, San Francisco
Not so great. I mean, you can't compare the Chunnel with Zeus.
Fortunately, now we can all vote on it. In 2001, the Swiss filmmaker, adventurer and explorer Bernard Weber founded the NewOpenWorld Foundation to reach a global consensus on seven new wonders. It hasn't made a big splash in this country, but it's been huge in China and in India, which is lobbying hard for the Taj Mahal.
With 17 million votes in, here are the current leaders:
Wall of China (11.01 percent)
Potala Palace, Lhasa, Tibet (8.52 percent)
Taj Mahal, India (7.70 percent)
Colosseum, Rome (7.00 percent)
Pyramids of Chichen Itza, Yucatan, Mexico (6.33 percent)
Statues of Easter Island, Chile (6.03 percent)
Tower of Pisa, Italy (5.98 percent)
So that's looking pretty good. They'll announce the final list next January. I figure if we can get 2 million Americans to vote, we can push Wal-Mart to the top of the list.