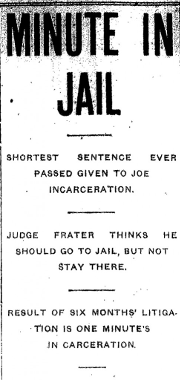 The shortest jail sentence ever served in Washington state is one minute. From the Seattle Daily Times, Jan. 20, 1906:
[Joe] Munch is a soldier, on leave of absence. On the thirteenth day of August he found garrison life dull and proceeded to get drunk. A policeman found him in this condition and he was hustled off to the police station. In Judge Gordon's court he was sentenced to thirty days for being drunk and disorderly, but his case was taken to the higher court.

Judge Frater decided that while the soldier's crime was not enough to merit punishment, for the looks of things he ought to be sent to jail, and have a lesson taught him. Consequently Munch was sentenced to an imprisonment of one minute, something which the clerk who makes out the sentence documents never heard of before and which caused much merriment in court house circles.
"Those who heard the decision were inclined to take it as a joke of the judge's, until Munch was hustled off to jail and kept there until the second hand of the jailer's watch had completed the circle of sixty seconds. Munch was so surprised that he hardly knew what was going on and when released decided that the best thing for him to do was to get away for fear the sight of him should cause the judge to inflict a heavier penalty."
(From the Washington State Library blog.)