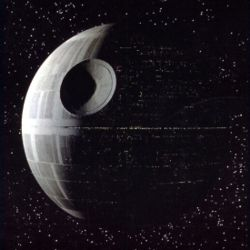 interfector
n. a death-bringing planet
mundicidious
adj. likely or able to destroy the world
In 2012 an online petition urged the Obama administration to build a Death Star like the one in Star Wars. The campaign amassed 25,000 signatures, enough to require an official response, and it fell to Paul Shawcross, chief of the Science and Space Branch at the Office of Management and Budget, to reject the project. He gave three reasons:
The construction of the Death Star has been estimated to cost more than $850,000,000,000,000,000. We're working hard to reduce the deficit, not expand it.
The Administration does not support blowing up planets.
Why would we spend countless taxpayer dollars on a Death Star with a fundamental flaw that can be exploited by a one-man starship?