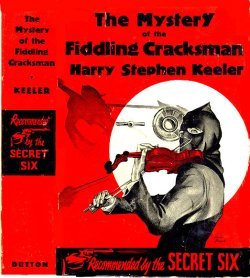 Harry Stephen Keeler (1890-1967) wrote mystery novels so bad they've been called "coincidence porn." In The Ace of Spades Murder he introduces the guilty character on the third-to-last page; in X. Jones of Scotland Yard he explains on the last page that Napoleon Bonaparte is the culprit.
And his gifts extend beyond plotting. His characters are called Criorcan Mulqueeny and Screamo the Clown and Scientifico Greenlimb and Wolf Gladish and State Attorney Foxhart Cubycheck, and he writes titles like Finger, Finger!, The Yellow Zuri, The Amazing Web, Find the Clock, and The Face of the Man From Saturn.
Even at the level of simple prose, he's entirely helpless. Here's a typical passage from The Case of the 16 Beans:
The door now opened, revealing, as it did so, a strange figure — a half-man, no less, seated on a "rollerskate" cart! — framed against the bit of outer hallway. But no ordinary half-man this, for he was a Chinaman; quite legless, indeed, so far as the presence of even upper leg stumps went; but amply provided with locomotion, of the gliding kind, anyway, in the matter of the unusually generous rubber-tired wheels under the platform cart.
There's even an appreciation society now, which is fortunate, because most of Keeler's numerous works are now out of print. In 1942, the New York Times wrote, "We are drawn to the unescapable conclusion that Mr. Keeler writes his peculiar novels merely to satisfy his own undisciplined urge for creative joy." Amen.