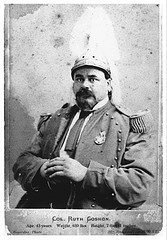 Excerpt from the obituary of Arthur James Caley (1837-1889), the "Middlebush Giant":
"The farmhouse of the dead giant was thronged with villagers long before the hour fixed for the funeral. The remains had been placed in a coffin eight feet long and three feet wide. It was covered with cloth and had been specially made for the deceased. After the funeral services were over the coffin was borne on the shoulders of eight sturdy farmers to a wagon which was standing in the road about 100 yards from the house. Undertaker Van Duyn said he could not find a hearse large enough to hold the giant's coffin. The pallbearers had a hard struggle in carrying the remains down the incline leading from the house to the road and when they deposited the coffin in the wagon, beads of perspiration stood out on their foreheads."
Caley measured 7 foot 2 and weighed 630 pounds. He had been a fixture in P.T. Barnum's show, and he remained a sensation even in death: He was originally buried without a tombstone for fear his body would be dug up and put on display.