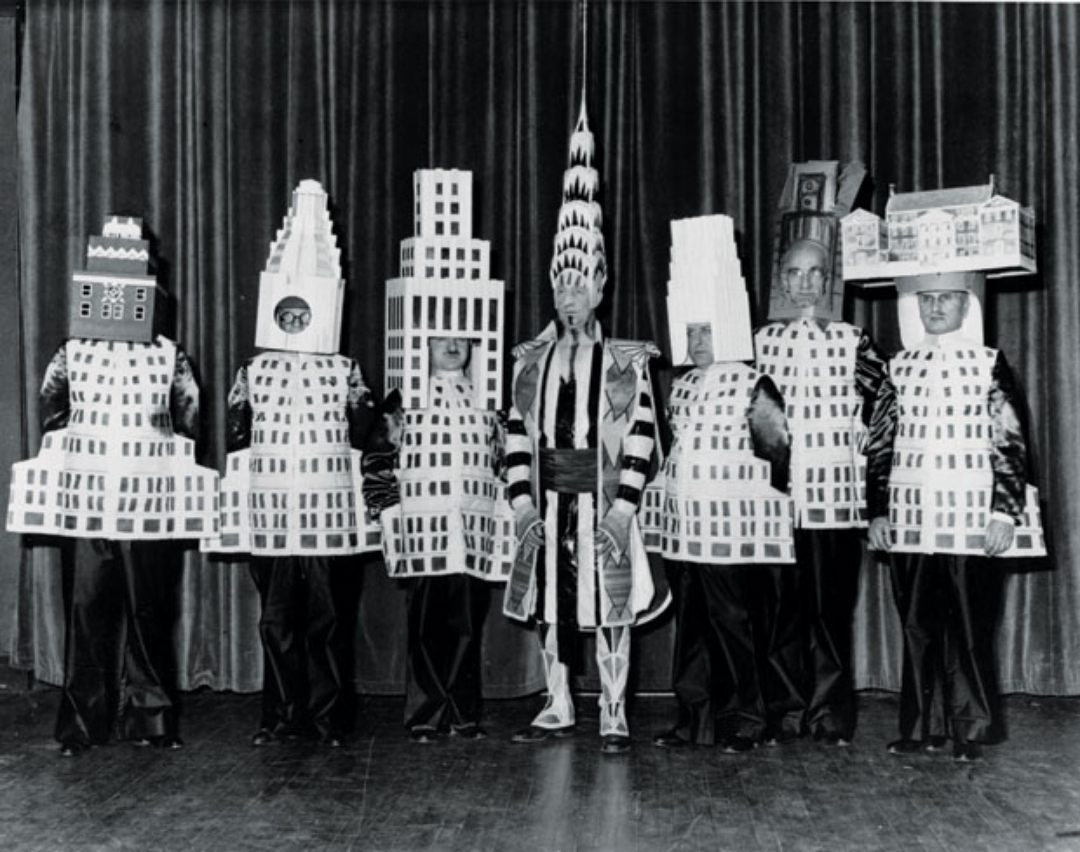 At a 1931 costume ball, seven New York architects appeared as their own buildings. Left to right: A. Stewart Walker as the Fuller Building; Leonard Schultze as the Waldorf-Astoria; Ely Jacques Kahn as the Squibb Building; William Van Alen as the Chrysler Building; Ralph Walker as One Wall Street; D.E. Ward as the Metropolitan Tower; and Joseph H. Freedlander as the Museum of the City of New York.
That's from Rem Koolhaas' Delirious New York, 1994. Some compromises: Freedlander had never designed a skyscraper, so he put the museum on his head. Schultze had to represent the twin-towered Waldorf Astoria with a single headdress. And "The elegant top of A. Stewart Walker's Fuller Building has so few openings that faithfulness to its design now condemns its designer to temporary blindness."
William Van Alen, in the center, went bananas with the Chrysler Building: The headpiece is an exact facsimile of the top of the building; the cape, puttees, and cuffs are made of flexible wood selected from trees in India, Australia, the Philippines, South America, Africa, Honduras, and North America; the cape matches the design of the first floor elevator doors, using the correct woods; the front is a replica of the elevator doors on the upper floors of the building; and the shoulder ornaments are the eagles' heads that appear at the building's 61st-floor setback.
One marvel I couldn't find a photo of: Thomas Gillespie "dressed as a void to represent an unnamed subway station."