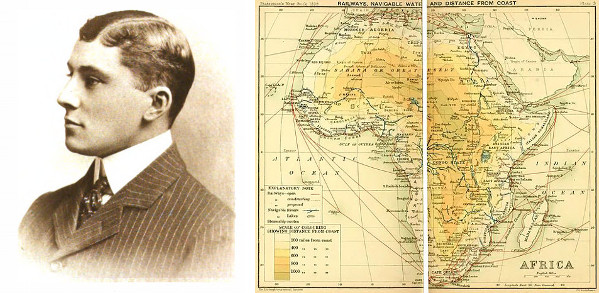 When Ewart Grogan was denied permission to marry his sweetheart, he set out to walk the length of Africa to prove himself worthy of her. In this week's episode of the Futility Closet podcast we'll find out whether Ewart's romantic quest succeeded.
We'll also get an update on the criminal history of Donald Duck's hometown, and try to figure out how a groom ends up drowning on his wedding night.
Sources for our segment on Ewart Grogan's traversal of Africa:
Ewart Scott Grogan and Arthur Henry Sharp, From the Cape to Cairo: The First Traverse of Africa From South to North, 1902.
Edward Paice, Lost Lion of Empire: The Life of Cape-to-Cairo Grogan, 2001.
Julian Smith, Crossing the Heart of Africa: An Odyssey of Love and Adventure, 2010.
Norman Wymer, The Man From the Cape, 1959.
Martin Dugard, The Explorers, 2014.
Brian O'Brien, "All for the Love of a Lady," in The Best of Field and Stream: 100 Years of Great Writing from America's Premier Sporting Magazine, 2002.
"One Incredibly Long Church Aisle," Times Higher Education, June 15, 2001.
"A Man Who Did Derring-Do," Telegraph, March 31, 2001.
Listener Ed Kitson directed us to this letter from Jane Baillie Welsh to Thomas Carlyle, dated May 7, 1822, in which she writes, "I am not at all the sort of person you and I took me for."
And listener Alex Klapheke sent us a copy of Swiss criminologist Karl-Ludwig Kunz's 2004 paper "Criminal Policy in Duckburg," from Images of Crime II: Representations of Crime and the Criminal in Politics, Society, the Media, and the Arts, edited by Hans-Jörg Albrecht, Telemach Serassis, and Harald Kania.
This week's lateral thinking puzzle was contributed by listener Price Tipping.
You can listen using the player above, download this episode directly, or subscribe on iTunes or via the RSS feed at http://feedpress.me/futilitycloset.
Please consider becoming a patron of Futility Closet — on our Patreon page you can pledge any amount per episode, and all contributions are greatly appreciated. You can change or cancel your pledge at any time, and we've set up some rewards to help thank you for your support.
You can also make a one-time donation via the Donate button in the sidebar of the Futility Closet website.
Many thanks to Doug Ross for the music in this episode.
If you have any questions or comments you can reach us at podcast@futilitycloset.com. Thanks for listening!