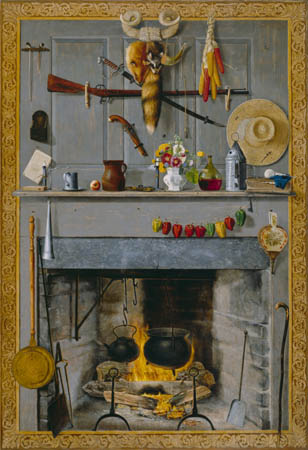 This is Grandma's Hearthstone, an 1890 canvas by the trompe l'oeil master John Haberle. The 96″ x 66″ painting was so realistic that the proprietors of Churchill's Saloon in Detroit decided to try an experiment.
"The location of the picture adds to the realistic effect," explained the Detroit Tribune. "It is arranged at a dark end of the room, with electric light turned upon it in such a manner that upon entering the place it seems as if there really were an old-fashioned fire place there and the light was the reflection of the fire."
Did it work? "The best critic upon the picture was the house cat. When the picture was first placed in position the cat came up from the cellar and started across the room. … The cat noticed the light of the blazing fire and went over to examine it. After critically scrutinizing the new affair she curled herself up before it and began to snooze completely illusionized."
Whether that's true is anyone's guess. Perhaps it says more about the cat than about Haberle.
("It Fooled the Cat," New Haven Evening Leader, June 10, 1893, quoted in James W. Cook, The Arts of Deception: Playing With Fraud in the Age of Barnum, 2001.)