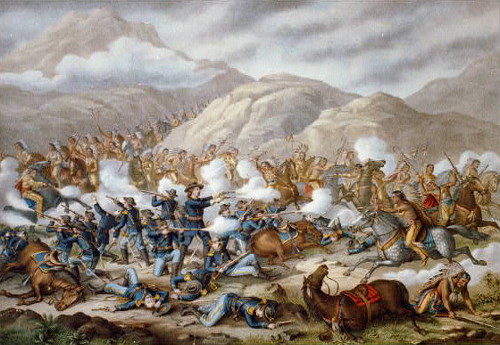 In recalling the Battle of the Little Bighorn during an 1877 interview, Sioux chief Red Horse said:
Among the soldiers was an officer who rode a horse with four white feet. The Sioux have for a long time fought many brave men of different people, but the Sioux say this officer was the bravest man they had ever fought. I don't know whether this was General Custer or not. Many of the Sioux men that I hear talking tell me it was. I saw this officer in the fight many times, but did not see his body. It has been told me that he was killed by a Santee Indian, who took his horse. This officer wore a large-brimmed hat and a deerskin coat. This officer saved the lives of many soldiers by turning his horse and covering the retreat. Sioux say this officer was the bravest man they ever fought.
Who was this? In September 1898, McClure's Magazine published an interview with Cheyenne chief Two Moon:
One man rides up and down the line — all the time shouting. He rode a sorrel horse with white face and white forelegs. I don't know who he was. He was a brave man. … [A]nd then the five horsemen and the bunch of men, may be so forty, started toward the river. The man on the sorrel horse led them, shouting all the time. He wore a buckskin shirt, and had long black hair and mustache. He fought hard with a big knife. His men were all covered with white dust. I couldn't tell whether they were officers or not.
The valiant man appears not to have been Custer himself, who died higher on the ridge. In the aftermath, Two Moon said, "Most of them were left just where they fell. We came to the man with big mustache; he lay down the hills towards the river. The Indians did not take his buckskin shirt. The Sioux said [mistaking him for Custer], 'That is a big chief. That is Long Hair.' I don't know. I had never seen him. The man on the white-faced horse was the bravest man."