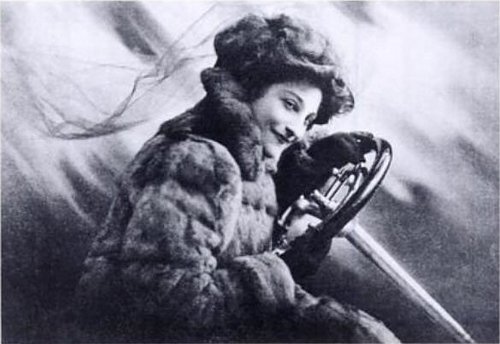 Dorothy Levitt started as a secretary at the Napier Car Company, but when the publicity-minded boss offered her a chance to race for him, she revealed a soul of pure fire:
In 1903 she became the first woman driver to win an automobile race.
Also in 1903 she also won Britain's first international powerboat race, at a cool 19.53 mph.
In 1905 she drove from London to Liverpool and back, establishing a women's distance record (205 miles in 11 hours).
In 1906 she broke the ladies' land speed record, becoming "the fastest girl on earth" at 90.88 mph.
In 1909 she started flight training in France.
The "chauffeuse" also wrote a newspaper column and in 1909 published The Woman in the Car, "a guide for women motorists" with "simple and understandable instructions and hints" (including "If you are driving alone a dog is great company" and "It might be advisable to carry a small revolver.")
Unfortunately, the Western Field reported in 1904, "She is also famous as being the first motorist to obtain substantial damages, amounting to thirty-five pounds sterling, or $175, from the owner of a horse-drawn vehicle which collided with her car." But she made her own repairs.