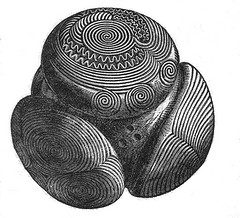 Every so often a Scottish farmer turns up a knobbly stone ball the size of an orange. No one knows precisely who made them or why: Were they weights for fishing nets? Die-like oracles? Flung weapons? Balls used in games? Some are quite elaborately carved, and they have as many as 160 knobs.
Whatever they were, they were immensely popular among Bronze Age Scots — more than 400 have been found to date in northeastern Scotland, most in Aberdeenshire.
Costa Ricans made stone balls with somewhat larger ambitions, and Romans made enigmatic dodecahedrons. Which of our own artifacts will baffle future civilizations?