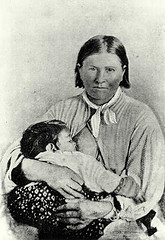 In 1860, a party of Texas Rangers killed a camp of Comanche Indians near Pease River. Afterward, they noted that one of the women they had captured had blue eyes. She spoke no English, but when Col. Isaac Parker mentioned that his 9-year-old niece Cynthia Ann had been abducted by Comanches 24 years earlier, the woman slapped her chest and said, "Me Cincee Ann!"
As it turned out, Cynthia Ann Parker had been kidnapped twice. In 1836, when she was 9, the raiding Comanches had slaughtered her parents and taken her with them. She adopted their ways, grew to womanhood, married a native man, and bore three children. Then in 1860 the raiding Rangers killed her husband and abducted her back into white society.
She would be transplanted a third time: Forty years after her death in 1870, her son had her disinterred and buried on an Oklahoma reservation, reuniting her finally with her native family.