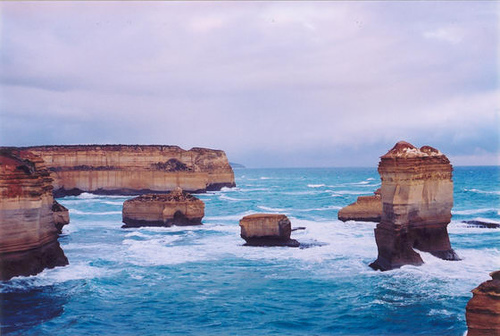 Like Namibia's Skeleton Coast, the Shipwreck Coast of Australia combines rare beauty with treacherous seas. Explorer Matthew Flinders said, "I have seldom seen a more fearful section of coastline." More than 50 ships have been lost here, most of them supply ships carrying immigrants and convicts to Victoria and New South Wales in the 1800s, but the coast's strangest victim may have come much earlier.
Periodically since 1836, travelers have reported stumbling on the wreck of a very old ship of "hard dark timber — like mahogany." The descriptions are quite specific. Here's a letter by Captain John Mason of Belfast, published in the Melbourne Argus on April 1, 1876:
Riding along the beach from Port Fairy to Warrnambool in the summer of 1846, my attention was attracted to the hull of a vessel embedded high and dry in the Hummocks, far above the reach of any tide. It appeared to have been that of a vessel about 100 tons burden, and from its bleached and weather-beaten appearance, must have remained there many years. The spars and deck were gone, and the hull was full of drift sand. The timber of which she was built had the appearance of cedar or mahogany. The fact of the vessel being in that position was well known to the whalers in 1846, when the first whaling station was formed in that neighbourhood, and the oldest natives, when questioned, stated their knowledge of it extended from their earliest recollection.
Despite well-financed searches in 1890, 1992, 1999, and 2004, no trace of the ship has been found. If it ever existed, it may have been the missing ship of Portuguese sea captain Cristóvão de Mendonça, which was wrecked in 1522. If that's true, there's a strange irony here: The introduction of livestock and pests from Europe have destabilized the local dunes, which may have buried all evidence of Australia's first European visitor.