Piggyback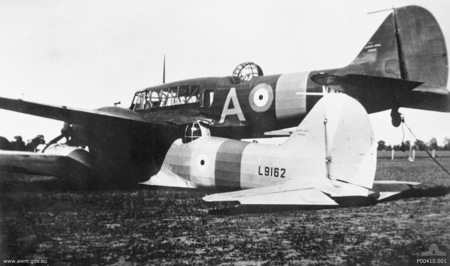 On Sept. 29, 1940, two Avro Anson training aircraft took off from a Royal Australian Air Force base near Wagga Wagga for a cross-country exercise over New South Wales. They were making a banking turn over Brocklesby when pilot Leonard Fuller lost sight of Jack Hewson's plane beneath him, and the two collided with a "grinding crunch of metal and tearing of fabric."
To his horror, Fuller found that the planes were now locked together. His own engines had been knocked out by the collision, but Hewson's were still functioning, and he could still manipulate his own ailerons and flaps, so he found he could control the lumbering pair as one aircraft.
After the crew of the lower plane had bailed out, along with his own navigator, Fuller flew an additional five miles and made an emergency landing in a paddock, where he slid 200 yards to a safe stop. "I did everything we've been told to do in a forced landing," he told air accident inspector Arthur Murphy. "Land as close as possible to habitation or a farmhouse and, if possible, land into the wind. I did all that. There's the farmhouse, and I did a couple of circuits and landed into the wind. She was pretty heavy on the controls, though."
Fuller was credited with saving £40,000 worth of military hardware and preventing any damage or injury in Brocklesby, and his plane was even returned to service. He died four years later in a road accident.