When in very good spirits he would jest in a delightful manner. This took the form of deliberately absurd or extravagant remarks uttered in a tone, and with a mien, of affected seriousness. On one walk he 'gave' to me each tree that we passed, with the reservation that I was not to cut it down or do anything to it, or prevent the previous owners from doing anything to it: with those reservations it was henceforth mine. Once when we were walking across Jesus Green at night, he pointed at Cassiopeia and said that it was a 'W' and that it meant Wittgenstein. I said that I thought it was an 'M' written upside down and that it meant Malcolm. He gravely assured me that I was wrong.
— Norman Malcolm, Ludwig Wittgenstein: A Memoir, 1958
Botanist George B. Hinton named the plant species Salvia leninae Epling after a saddle mule, Lenina, who had helped him to gather more than 150,000 specimens in the mountains of western Mexico.
He wrote, "What is more deserving of commemoration than the dignity of long and faithful service to science, even though it be somewhat unwitting — or even unwilling?"
See Rigged Latin.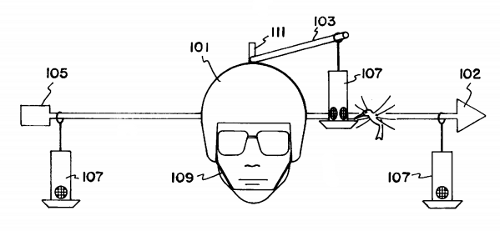 This one's pretty straightforward. David Leslie's "wearable device for feeding and observing birds," patented in 1999, is essentially a helmet mounted with three poles, each bearing a bird feeder. "When flying animals feed from the feeders, a person wearing the hat may observe them from a short distance."
The helmet can also be fitted with magnifying glasses and videocameras. One wonders what the birds think of this.