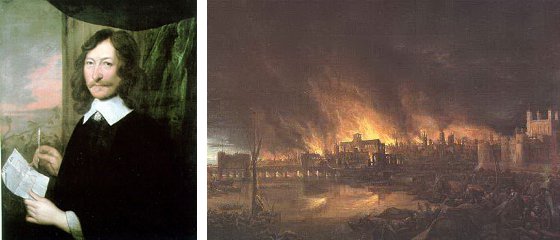 Astrologer William Lilly managed to torpedo his own reputation. Nettled at rumors abroad in London, he published this advertisement in the Perfect Diurnal of April 9, 1655:
Whereas there are several flying reports, and many false and scandalous speeches in the mouth of many people in this City, tending unto this effect, viz., that I, William Lilly, should predict or say there would be a great fire in or near the Old Exchange, and another in St. John's Street, and another in the Strand, near Temple Bar, and in several other parts of the City. These are to certify the whole City that I protest before Almighty God that I never wrote any such thing, I never spoke any such word, or ever thought of any such thing, of any or all of these particular places or streets, or any other parts. These untruths are forged by ungodly men and women to disturb the quiet people of the City, to amaze the nation, and to cast aspersions and scandals on me.
He should have held his tongue — the Great Fire of London broke out on Sept. 2, 1666, and consumed more than 13,000 houses, fulfilling the prophecy that Lilly had disclaimed.
"He must have misread the stars," wrote Walter George Bell in Fleet Street in Seven Centuries. "Not to have forecasted the fire would not have mattered; but to have prophesied that it would not take place! The fool! the abject, intolerable fool!"