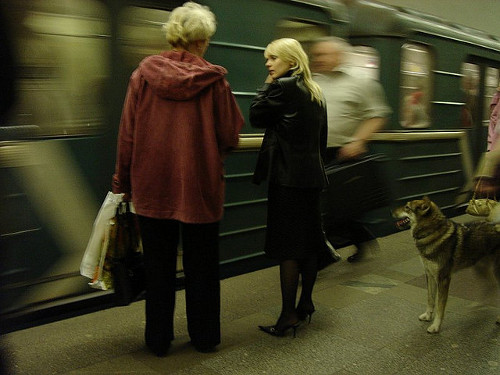 Moscow's stray dogs have begun using the city's subway system. Zoologist Andrey Poyarkov of the Moscow Ecology and Evolution Institute, who has been studying the city's 35,000 strays for 30 years, says some dogs scavenge downtown during the day and board trains in the evening to travel to industrial complexes in the suburbs, where they sleep.
"Because the best scavenging for food is in the city center," Poyarkov told the Sun, "the dogs had to learn how to travel on the subway — to get to the center in the morning, then back home in the evening, just like people."
This seems to be a sinister trend:
In 2006 a Jack Russell terrier named Ratty began taking the Number 10 bus from his farm in Dunnington, North Yorkshire, to a pub five miles away, where regulars would feed him sausages. When barred from one pub he switched to another nearby.
In 2007 a cat nicknamed Macavity began boarding the Number 331 bus in Wolverhampton, riding 400 meters, and alighting near a fish-and-chip shop. "He sat at the front of the bus, waited patiently for the next stop and then got off," passenger Paul Brennan told the Daily Mail. "It was was quite strange at first, but now it just seems normal."
In 2009 the BBC reported that a cat named Casper was boarding buses in Plymouth, Devon, and sitting in a favorite seat for the entire 11-mile trip through the city center. The driver would let him off when they returned to the bus stop opposite his house.
This year a ginger cat named Dodger began hopping onto buses near his home in Bridport, Dorset. "I hadn't seen him all morning until my daughter Emily told me one of her friends had just seen him on the bus at Charmouth," five miles away, owner Fee Jeanes told the Telegraph. "I couldn't believe it and panicked. I got into my car to go off and look for him, and then at that moment the bus pulled up near our house, and lo and behold he got off."
It gets worse: Poyarkov's graduate student Alexei Vereshchagin says that stray dogs in Moscow have been observed obeying traffic lights.