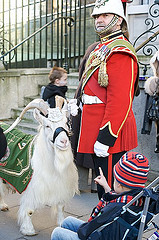 Since 1844, the Royal Welch Fusiliers have had a regimental goat. He's not a mascot, but a ranking member of the unit — he marches at the head of the battalion during ceremonial duties, and fusiliers must stand to attention when he walks past.
They're not always model soldiers. The most recent goat — Lance Corporal William Windsor, inevitably known as Billy — was once demoted for butting a drummer at the queen's birthday celebration. But he was promoted again three months later, after taking the summer "to reflect on his behavior." Boys will be boys.
See Reviewing the Troops.