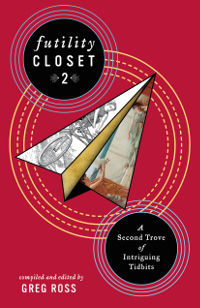 We'll have another book in time for the holidays this year: a new collection of entertaining oddities in history, literature, language, art, philosophy, and mathematics, the perfect gift for people who are impossible to buy gifts for.
Futility Closet 2: A Second Trove of Intriguing Tidbits contains hundreds of hand-picked favorites from the site's 10-year archive of the marvelous, the diverting, and the strange: joyous dogs, soul-stirring Frenchmen, runaway balloons, U-turning communists, manful hummingbirds, recalcitrant Ws, intractable biplanes, hairless trombonists, abusive New Zealanders, unreconstituted cannibals, mysterious blimps, thrice-conscripted Koreans, imaginary golf courses, irate Thackerays, and hundreds more. Plus the amusing inventions, curious words, and beguiling puzzles that regularly entertain millions of website visitors and podcast listeners.
"A wild, wonderful, and educational romp through history, science, zany patents, math puzzles, wonderful words (like boanthropy, hallelujatic, and andabatarian), the Devil's Game, self-contradicting words, and so much more. Buy this book and feed your mind!"
— Clifford A. Pickover, author of The Mathematics Devotional
We'll launch the new book on Amazon on November 3. It will join our first book, Futility Closet: An Idler's Miscellany of Compendious Amusements, which reviewers have called "funny, interesting, thought-provoking, and completely original" and "a book to enlighten as well as entertain." Thanks for your support, and thanks for reading!