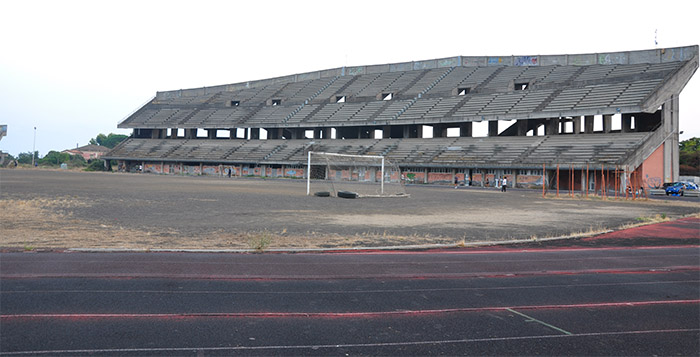 Between the 1950s and the 2000s, the Sicilian town of Giarre started a series of ambitious building projects as its politicians competed to create jobs and secure funds from the regional government. Unfortunately, there was no need for the buildings — Giarre's population is only 27,000 — and today the seaside town hosts 25 half-built and abandoned constructions, including an amphitheater, a sports stadium, a polo ground, and a swimming pool.
"Giarre offers the extreme form of a condition found in most cities, making it a parable of urban planning," writes social geographer Alastair Bonnett in Off the Map. "It is the epicentre not of merely an Italian but a global phenomenon of accreted unfinished visions."
"Several companies started the projects without the intention of finishing them," architect Salvo Patane told the BBC. "These were projects started so as not to lose funds that were available from the regional government. More than waste, this was bad politics."
Community activist Claudia D'Aita wants to reconceive the abandoned constructions as a park — "a kind of open-air museum" — exhibiting a cautionary new architectural subgenre. They would call it the Archaeological Park of Sicilian Incompletion.