The United Press syndicate published an eye-opening story in 1951 — a 32-year-old German soldier had emerged, "bearded, blinded and blubbering," when workers cleared wreckage from the entrance to a Nazi supply depot in Babie Doly, Poland.
The soldier said that he and five companions had been buried alive in the food and supply warehouse when retreating German troops dynamited the entrance in 1945. Four of the six had died, two by suicide, but the man and one companion had survived for six years underground, drinking water that trickled through cracks and living in darkness when their supply of candles ran out in 1949. The second man had "dropped dead of shock on emerging into the daylight."
Decide for yourself — here's another UP story, and here's an account in Time magazine. The story also turns up in the 1958 German film Nasser Asphalt and inspired the 1973 English film The Blockhouse, with Peter Sellers.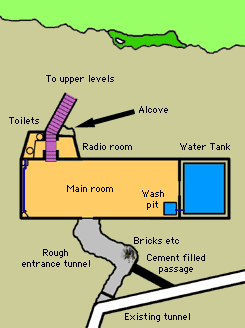 Related: During World War II, British naval intelligence conceived "Operation Tracer," a secret plan to seal a group of soldiers in a bunker at the top of the Rock of Gibraltar, so that if Nazis captured the rock the hidden soldiers could observe the movements of enemy vessels and report them to the Admiralty by wireless communication. A chamber, shown here, measuring 14 × 4.8 × 2.4 meters was constructed secretly in 1942, and six men volunteered to be sealed inside for at least a year (they had provisions for up to seven years). But the plan was never put into effect, and the empty chambers were ordered sealed. They came to light only in 1997, when they were discovered by the Gibraltar Caving Group.
(Thanks, James.)