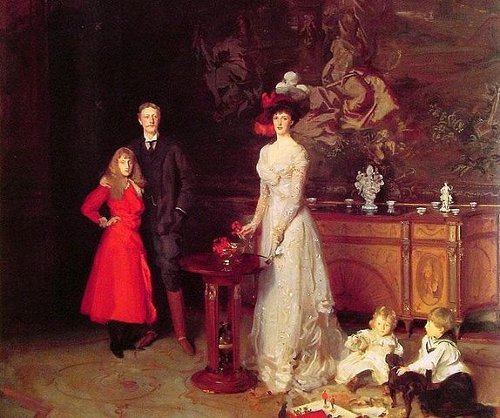 Episodes from the friendship of the eccentric Sir George Sitwell and Henry Moat, the 16-stone Yorkshireman who served for 42 years as his butler-valet:
Sitwell: Henry, I've a new idea — knife-handles should be made of condensed milk!
Moat: Yes, Sir George, but what if the cat gets at them?
Sitwell: (when his dinner guests were 90 minutes late) Henry, it is now 8:30. If they don't arrive in 10 minutes' time, I intend to sit down to dinner — if necessary by myself.
Moat: Well, Sir George, you couldn't ask for more cheerful company, could you?
At Sitwell's 200-room Tuscan palace, the chauffer, the son of the bailiff, and the plasterer were all named Guido.
Moat: Any orders for the motor today, Sir George?
Sitwell: Yes, Henry. Tell Guido to drive into Florence to help Guido with the painting. Guido can wait while Guido has luncheon, and then Guido will go back to Florence and fetch Guido here.
Moat: Sir George, if you are going on like that, I had better give notice before my mind gives way.
Edith Sitwell described Moat as "an enormous purple man like a benevolent hippopotamus," and Moat called Sir George "the strangest old bugger you ever met." (Sitwell had once designed a tiny revolver for shooting wasps; his History of the Fork remained unpublished.) "He and my father [were] mutually critical and at the same time appreciative," wrote Osbert Sitwell.
And Moat himself could be odd. When Sitwell's 4-year-old grandson visited Italy, he was attended by a beloved Jamaican nanny whom the butler found inquisitive and bossy. When she asked what was for lunch, "Let me see," he said, "slices of cold boiled missionary it is today." At that, wrote Osbert, she became "notably more subdued in manner."