Book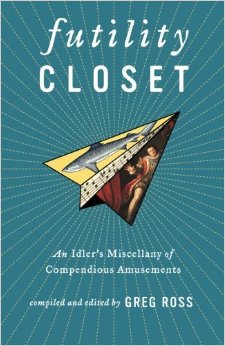 Futility Closet: An Idler's Miscellany of Compendious Amusements collects my favorite finds in nine years of dedicated curiosity-seeking: lawyers struck by lightning, wills in chili recipes, a lost manuscript by Jules Verne, dreams predicting horse race winners, softball at the North Pole, physicist pussycats, 5-year-olds in the mail, camels in Texas, balloons in the arctic, a lawsuit against Satan, starlings amok, backward shoes, revolving squirrels, Dutch Schultz's last words, Alaskan mirages, armored baby carriages, pig trials, rivergoing pussycats, a scheme to steal the Mona Lisa, and hundreds more.
Plus a selection of the curious words, odd inventions, and quotations that are regular features on the site, as well as 24 favorite puzzles and a preface explaining how Futility Closet came to be and how I come up with this stuff.


The book is available now on Amazon and in the Apple iBookstore.