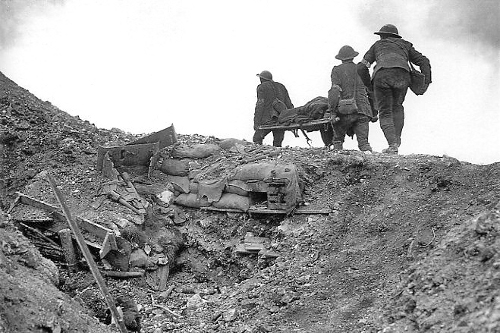 Three nightmare glimpses of World War I:
The first experience I had of rotting bodies had been at Serre, where, as a battalion, we dealt with the best part of a thousand dead who came to pieces in our hands. As you lifted a body by its arms and legs they detached themselves from the torso, and this was not the worst thing. Each body was covered inches deep with a black fur of flies which flew up into your face, into your mouth, eyes and nostrils, as you approached. The bodies crawled with maggots. … We stopped every now and then to vomit. … The bodies had the consistency of Camembert cheese. I once fell and put my hand through the belly of a man. It was days before I got the smell out of my hands.
— British lieutenant Stuart Cloete on a burial party after the Somme, from his autobiography A Victorian Son
At the Epéhy crossroads, we found a huge cat squatting on the chest of a dead German, eating his face. It made us sick to see it, and I sent two men to chase it away. As they approached it sprang snarling at them, but they beat it down with their rifles and drove it into the ruined houses. Then we covered the body with a sack, and went on … [Later] we saw the sack we had thrown over the dead Jerry heaving up and down, and there was pretty pussy, still rending and tearing the body; so we shot it and continued our march to Longavesnes.
— From the diary of British lieutenant Edwin Vaughan of the Royal Warwickshire Regiment, April 1917
One evening, whilst on patrol, Jacques saw some rats running from under the dead men's greatcoats, enormous rats, fat with human flesh. His heart pounding, he edged towards one of the bodies. Its helmet had rolled off. The man displayed a grimacing face, stripped of flesh; the skull bare, the eyes devoured. A set of false teeth slid down on to his rotting jacket, and from the yawning mouth leapt an unspeakably foul beast.
— A French soldier, quoted in John Ellis' Eye-Deep in Hell, 1989